01 Nov

Winemaking: Racking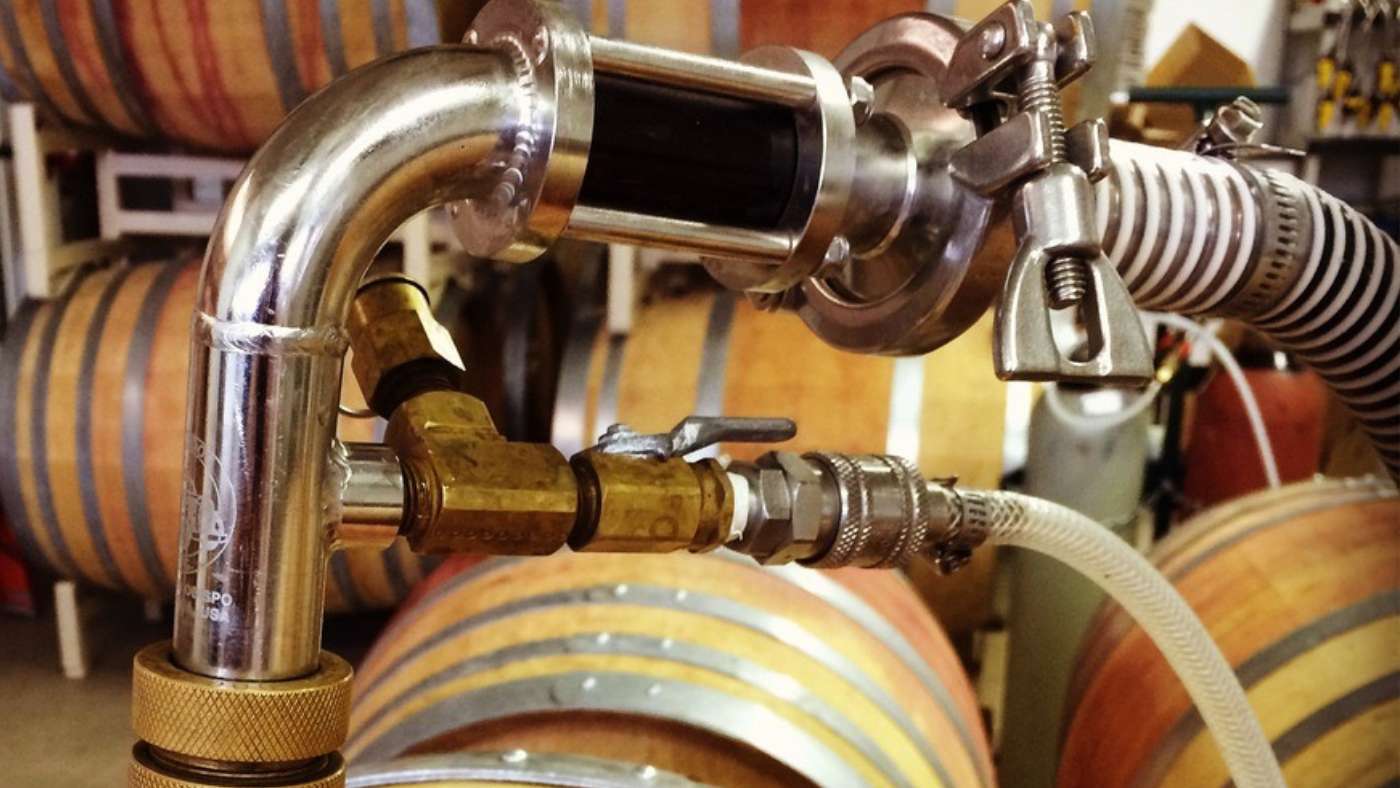 I used to imagine a winemaker's life was so glamorous. Sauntering through the neatly kept isles of vines, plucking sun-kissed grapes, as shadows stretch across the soil. Pulling samples of wine from barrels, tasting the fruits of their labor, breathing in the rich aromas. Waltzing into the winery during harvest to be greeted with that scent of yeasts and fruit… How exciting it must be to walk through the doors of the tasting room, being congratulated on a lovely vintage by wine club members and customers, basking in their creations.
And then I worked my first harvest. Four years ago I was so giddy with the thought of helping to make wine, I am not sure what I expected, maybe a combination of Lucy stomping grapes, and an assembly line of endless bottles that couldn't be corked fast enough so I would just have to drink them? First of all, to my great disappointment, there was no stomping. Turns out I am grateful for the lack of stomping, because you have to do A LOT of stomping. It actually would not be so bad if you're trying to get your "steps" in, I guess. Also, harvest isn't when you bottle, so the overflowing wine I had imagined was more like lots of sticky juice. It was still magical in its own way. Just more, sciency, and physical.
What I also was not prepared for is all of the work throughout the year. Now, you all know that my job is primarily pouring tastings and selling wine, not being a cellar rat; however, a few weeks ago, during our staff meeting, I volunteered to help Scott for the day (I may or may not have been a couple glasses of bubbles in at the time). After all these years I had a basic idea of what we would be doing, but this was like a hands on interview. I shadowed Scott, and I literally mean I followed him everywhere the entire day. I was worried I would slow him down, but he claims I was helpful. In fact, I am shocked that he is able to do these things without help.
It was a racking day. Racking is when you remove all of the wine from a barrel, using a pump to suck the wine out while leaving behind only the sediment. Sediment, also known as "Lees", which are deposits of dead or residual yeast and tartrates that are left over after fermentation. Racking allows us to clean out the sediment and sludge that sinks to the bottom of the barrels. Sometimes you will still find some sediment (which looks like wine crystals) in your bottle, that's not a bad thing, but it's not aesthetically pleasing. Racking helps to filter and avoid having too much sediment left behind.
Racking is also very helpful when you have several barrels of the same vintage and varietal, ideally you want this wine to taste the same. Each barrel has a mind of its own, it may breathe differently, or you may be using barrels which are made of different types of oak, which will bring different flavor profiles. If a barrel isn't new, it still carries some imprints of the wine before it, not that it will taste like the previous wine, but it may give a slight uniqueness, or begin malolactic fermentation on its own time. Often, winemakers will combine the barrels, for a more balanced wine. Even if you did the exact same thing with each barrel, the wine is not guaranteed to taste exactly the same. We use big totes that can hold enough wine for a few barrels, letting it merge, which serves two purposes. We now have the opportunity to clean out the barrels, and all the wine tastes the same when we refill them.
But I am ahead of myself; before we could even begin racking, we had to prepare the space by pulling down giant hoses, attaching them to a pump, and cleaning them with a three step system. First we run a mild cleaning agent called proxy through the hoses, then citric acid, which sanitizes (citric acid is naturally occurring in grapes, so in the event that there is any left in the tubes, it's not a problem), and finally water to make sure everything is rinsed out. Then, we cleaned out the empty steel tanks that we were going to be filling, which are heavy and awkward. Scott taught me how to use a pallet jack: I ran over my toe, made a 12 point turn, and felt like that contraption goes against my natural driving impulses! I'm pretty sure Scott held himself back from laughing at my frustration. I am not a fan, but I plan to become the master of the pallet jack by the time I write my last entry in "A Day in the Life of a Winemaker series" (yes, I plan to write a few of these, to give you an idea of what goes into wine making, and for my personal experience.)
The next part was a bit tricky. We didn't want to disturb the wine, because that might cause the sediment to unsettle and it would defeat the purpose of racking. The reason this was tricky, in this case, was because we had a cold storage container outside which is where the whites had been cold settling. So we needed to move the pump outside in order for one end of the hose to reach all the way to the back of the cold storage container, and the other end had to reach inside the barrel room. Normally we would perform these tasks inside the production and barrel room. Once we had the hoses arranged, we began pumping the wine.
Another perk in racking is being given the opportunity to taste the wine. We can call it quality control. Scott and I were racking all of our whites. It gave me a somewhat rare opportunity to have a private tasting with a winemaker. While I was too short to see into most of the steel barrels, I was able to see how the wine looked in the glass, some of the wines had a cloudiness, which will clear up during the fining process in few weeks. As the wine was being pumped we were able to lean the barrels over so I could see the differences in sediment, which was interesting to me. I imagined sediment was all the same, but it's not; depending on the grapes, and the yeasts, they do their own thing. So, while one barrel had more of a milky, smooth sediment, another barrel had actual pieces and flakes at the bottom. Even though they looked a little funny, they all tasted delicious in their own ways. It was evident that there were different varietals, Gewurztraminer was deliciously sweet and fruity. I don't tend to like sweet wines, but the nose was already so lovely, I could imagine sipping on this alongside a spicy curry. We tasted two different Chardonnay's because Scott is going a more traditional route with oak on 2 barrels, and the rest are in steel barrels. It's very early in the process, so the ones that are in oak are not showing it yet, however they taste fruity and chardonnay-y. The steel barrel of Chardonnay doesn't strike me as Chardonnay, so I am curious to see how it grows into itself. I have always felt like Chardonnay is so distinct, while this tastes like a yummy white wine that I could not quite place. In it's defense, it's only a few weeks old. The Viognier is delightful, just give me more, already! It's floral and fruity, and oh-so drinkable! Sauvignon Blanc to me tasted exactly perfect, it had a hint of grassiness, but it wasn't overpowering, just enough to say, "Hey, I'm a Sauv Blanc", the nose makes you want to dive into the glass, it has a sweetness to the nose, but finishes dry and refreshing. The last white we racked was Torrontes, I had never tasted one before, so I did not have anything to compare it to. It was aromatic and floral, I look forward to pouring it in the tasting room! Those wines were not the only thing I tasted, I also had a sip of Viognier sediment, which didn't taste bad, and goes to prove that it's totally safe to have sediment in your wine. It may not look appealing, it might even be crunchy, and you certainly don't have to drink it, but it's just a natural part of wine. Nothing to be afraid of.
Luckily, all those tastes of wine kept us energized in between cleaning out steel barrels, and reorganizing our indoor cold storage room. (Which will make racking easier next time around, and also, I'm a pro now.) There is a lot of prep time and clean up on racking days, call me Cinderella. Just kidding, Katie called me into the tasting room to help out because it was so busy, so I got out of half the cleaning. But really, it's a very physical job, and timing is everything. If Scott looks exhausted when you see him, it's because his job IS exhausting. And it's not just physically draining, it's mentally challenging. There is so much to remember, Scott keeps binders filled with notes on each wine. He is meticulous about dates, and even notes when he racked. The benefit of this is to have a log to look back on in the future, if a wine is remarkable, he will want to recreate it as closely as possible. This also avoids accidents, like overfeeding a wine during the fermentation process. It may also help Scott to free up some head-space.
I am looking forward to my next hands-on experience with wine making. It is such a different type of exposure to be able to ask specific questions, and be a part of answering those questions. I was able to see, touch and taste to find answers, as well as have a very patient teacher. I felt like parts of the world of wine were being opened up to me, connecting pieces of the winemaker's story. I hope I was able to give you all a glimpse of the magical world of wine, and some fun insight into our behind the scenes adventures.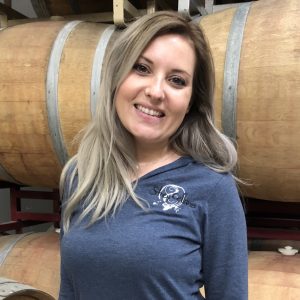 Author's Note: My name is Justine, and I have been a part of the Strey Cellars family since infancy. Responsible for various roles, my favorite has been penning their blogs. During the hiatus of the pandemic, I took a leap of faith and began blogging and writing for different niche websites. You can search them through my IG @justinethewitch. Strey Cellars is my home away from home and will surely be your new favorite Ventura County Winery. If this is your first visit to our blog, you'll notice that I write as if we are old friends because this is the energy of our winery. Visit sometime and see for yourself! If you enjoyed this blog, please share it with a friend. Cheers!