08 Mar

White White Wine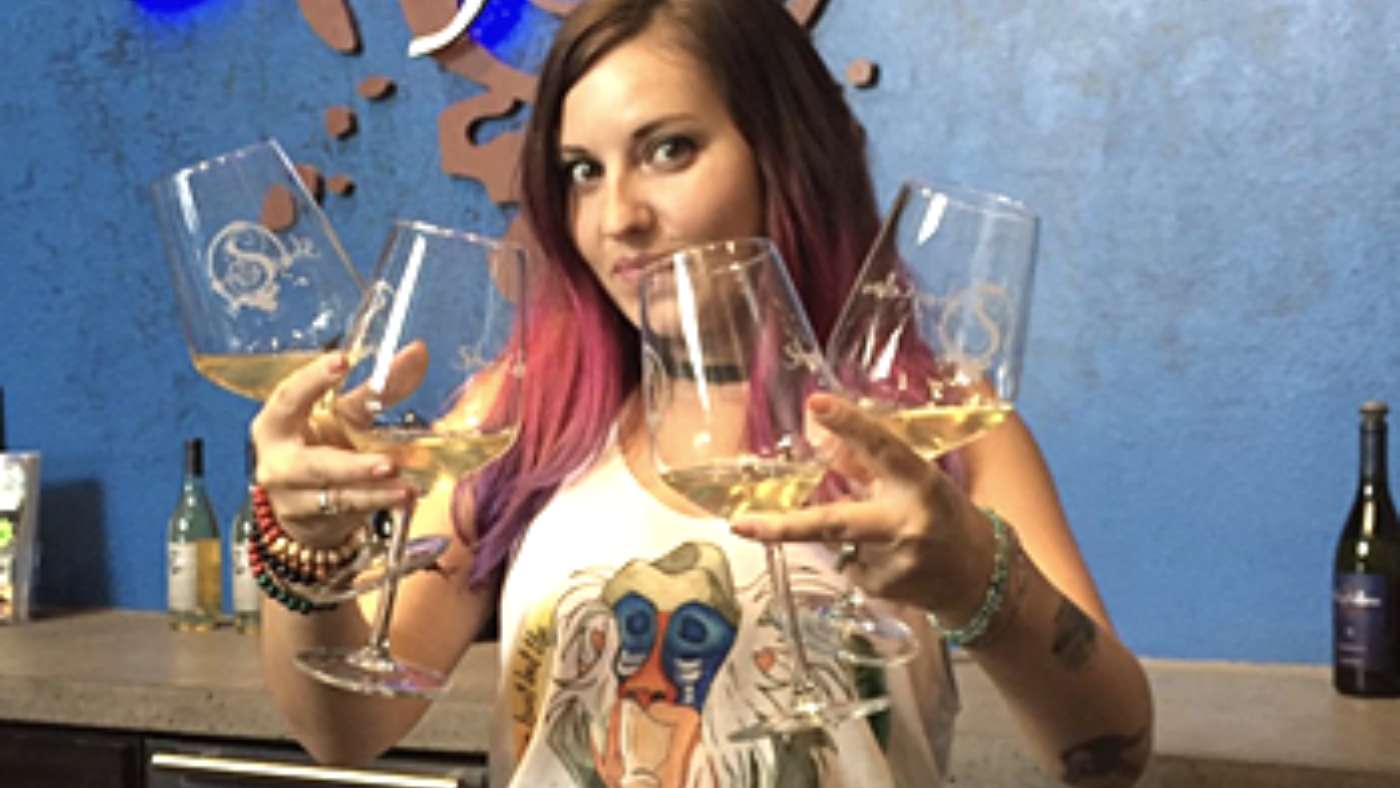 "You don't have any whites?" If I had a nickel for every time someone said this in the tasting room… The truth is, you often don't find many white wines when you are wine tasting in local boutique wineries. It's not because we don't like white wine, it's actually because the process to create white wine is very different. In fact, our first two white wines, the 2013 Sauvignon Blanc and the 2014 Chardonnay were made "off-site", which is a way to say, "We did not ferment this wine, however, we did purchase the grapes and used a trusted winemaker in the region that the grapes were grown to make a wine to our specifications." Please note, this isn't laziness, making white wine requires different equipment, it's expensive, and the process is pretty delicate. However, in 2017 Scott rolled up his sleeves and tried his hand at making his first white wine. (You may remember our remarkable Pinot Gris? Sadly, it's just a memory because it sold out almost faster than we could bottle it!) In order to make our own white, we built a cold storage room within our storage space at Strey. This would not have been possible prior to 2017 because we hadn't expanded yet. Our expansion really was imminent, not only did we need event space, but this opened us up to many more possibilities with wine making. A cold storage room is extremely important, as you know the weather in SoCal is pretty warm during Harvest season, which usually falls between August and October in Ventura County, #The805. The warmer it is, the faster the grapes will ferment. With white wine you need temperature control, particularly if you like crisp acidic white wine. At the time we just could not afford a jacketed tank, (if you're like me you're wondering what the heck that is, it's a temperature controlled tank.) but we could sort of cheat the system by building a small room that we outfitted with a small window AC unit. We then bypassed the AC's temperature sensors and viola: we were able to maintain a lovely 44 degree temp.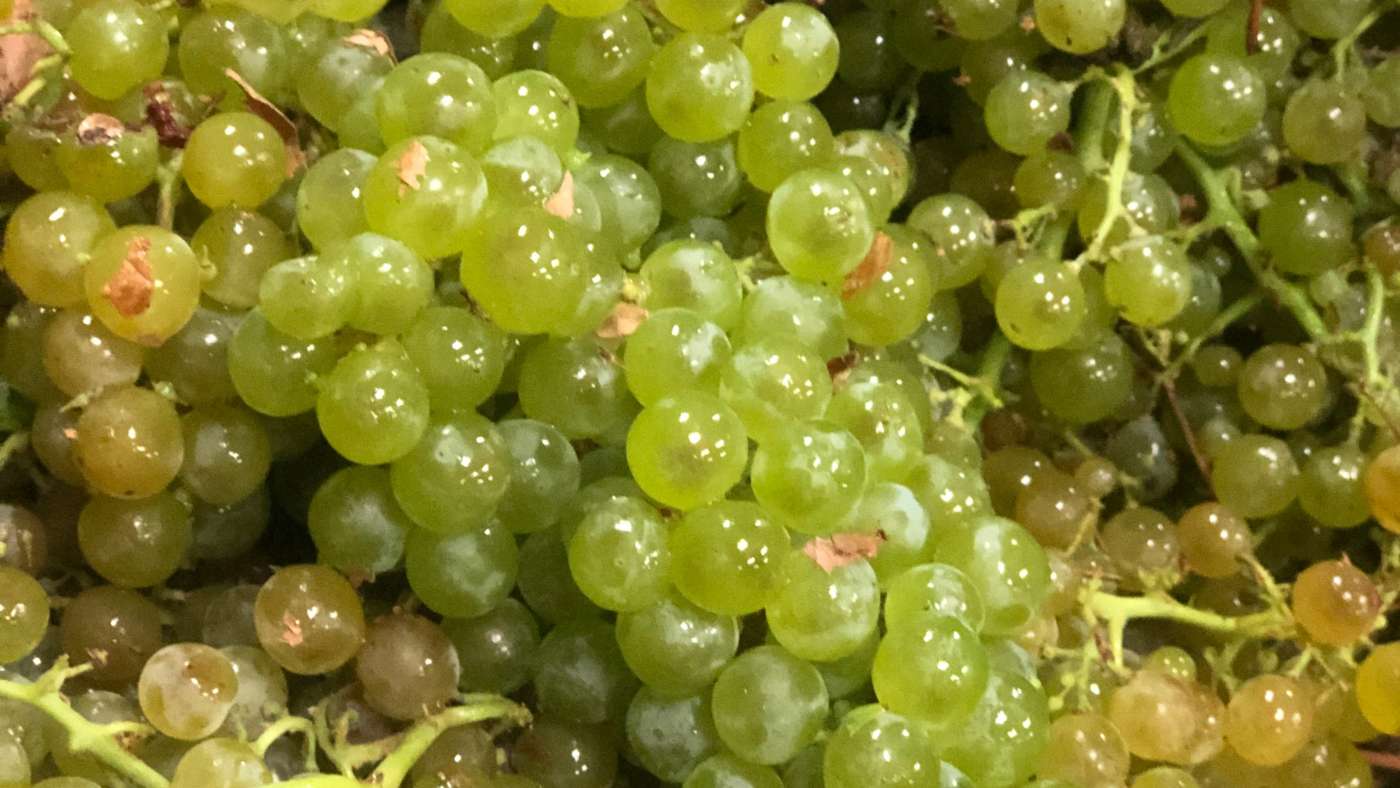 Because Scott loves crisp refreshing wine, it was important that we did not use barrels for fermentation. Instead we used stainless steel tanks. The benefit is that the wine stays airtight and won't go into Malolactic Fermentation (ML). ML fermentation is a secondary fermentation that turns malic acid to the softer lactic acid. You may have heard the term used in regards to Chardonnay. It's not quite as popular now, but Chardonnay used to be known for its creamy or buttery taste. That is a result of oak and ML fermentation. We did not want any of that for our Pinot Gris. Instead we wanted to lock in all of its esters, which are the basis of great aromas. Higher temperatures especially during fermentation increase the rate these esters are released, so between the cold storage and stainless tanks, we try to preserve the crisp acidity.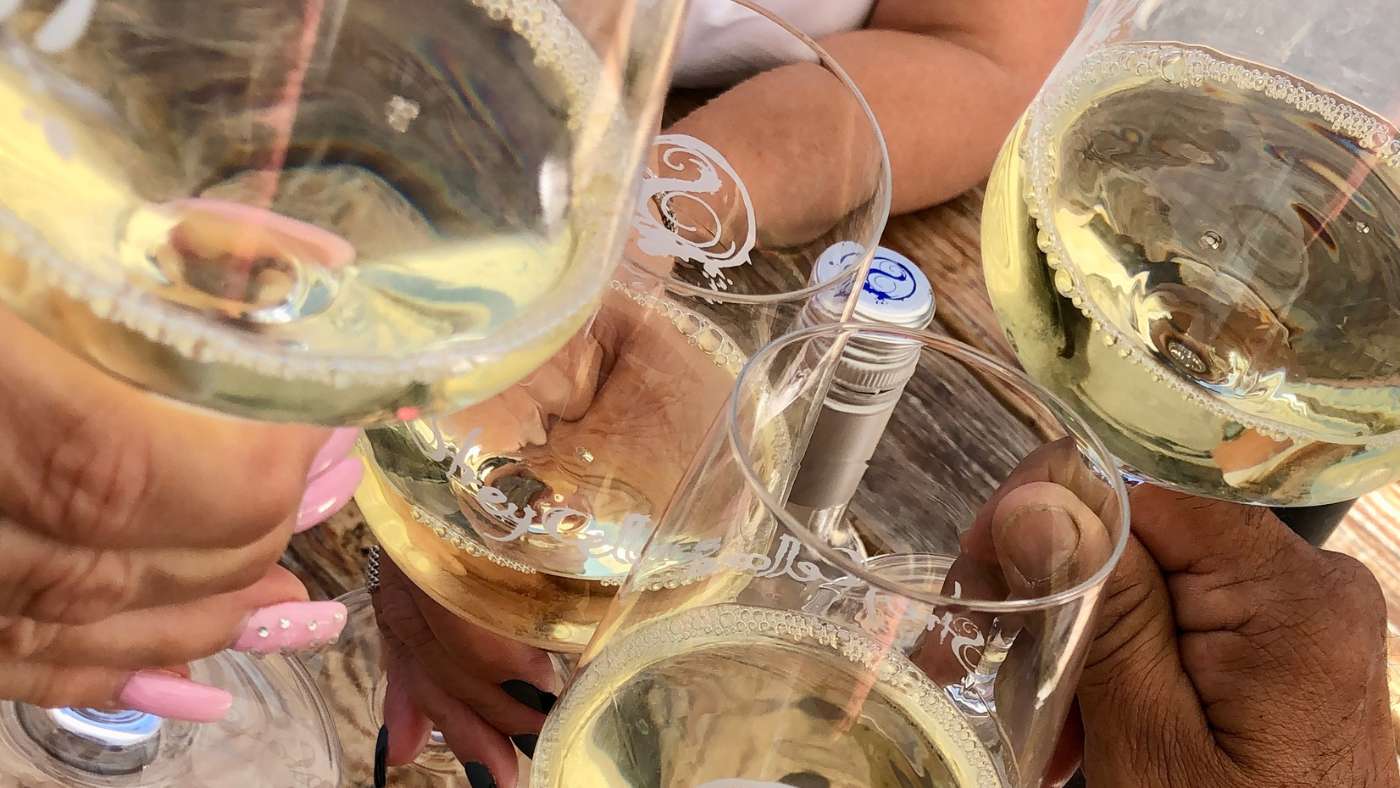 We absolutely fell in love with the Pinot Gris, and although making white wine came with a learning curve, we were really excited to try again. This time, we wanted to use grapes that you don't often find in a tasting room, much like our signature series. We REALLY were hoping to procure Albariño grapes because Scott and Katie love Albariño. Sadly that did not work out this time around, but omigod you guys we were able to source Verdelho grapes! Verdelho originated in Portugal and was the most  popular grape on the small island of Madeira, just off the coast of Africa. It also has been very popular in Australia. Typically Verdelho is fruity, and fresh when it's young, but it's said to be one of the few grapes that ages gracefully. I'll be honest, from the tank samples I've tasted, I don't see ours lasting long enough to find out how well it ages. We can't seem to keep ourselves from dipping in for barrel samples as it is! 
If you're not a white wine fan, I encourage you to broaden your horizon and try our Verdelho with soft white cheeses, fruits and fatty meats. Scott and Katie  like to pair it with Salmon Caesar salads. I may not be a foodie, but working in the tasting room has opened my eyes, stomach and palate to the magical world of wine pairing. I have learned that there is a time and a place for white wines. Especially if you like spicy foods. Pairing a sweet Riesling or Gewurztraminer with jambalaya is phenomenal. The flavors complement each other, creating an experience out of your meal.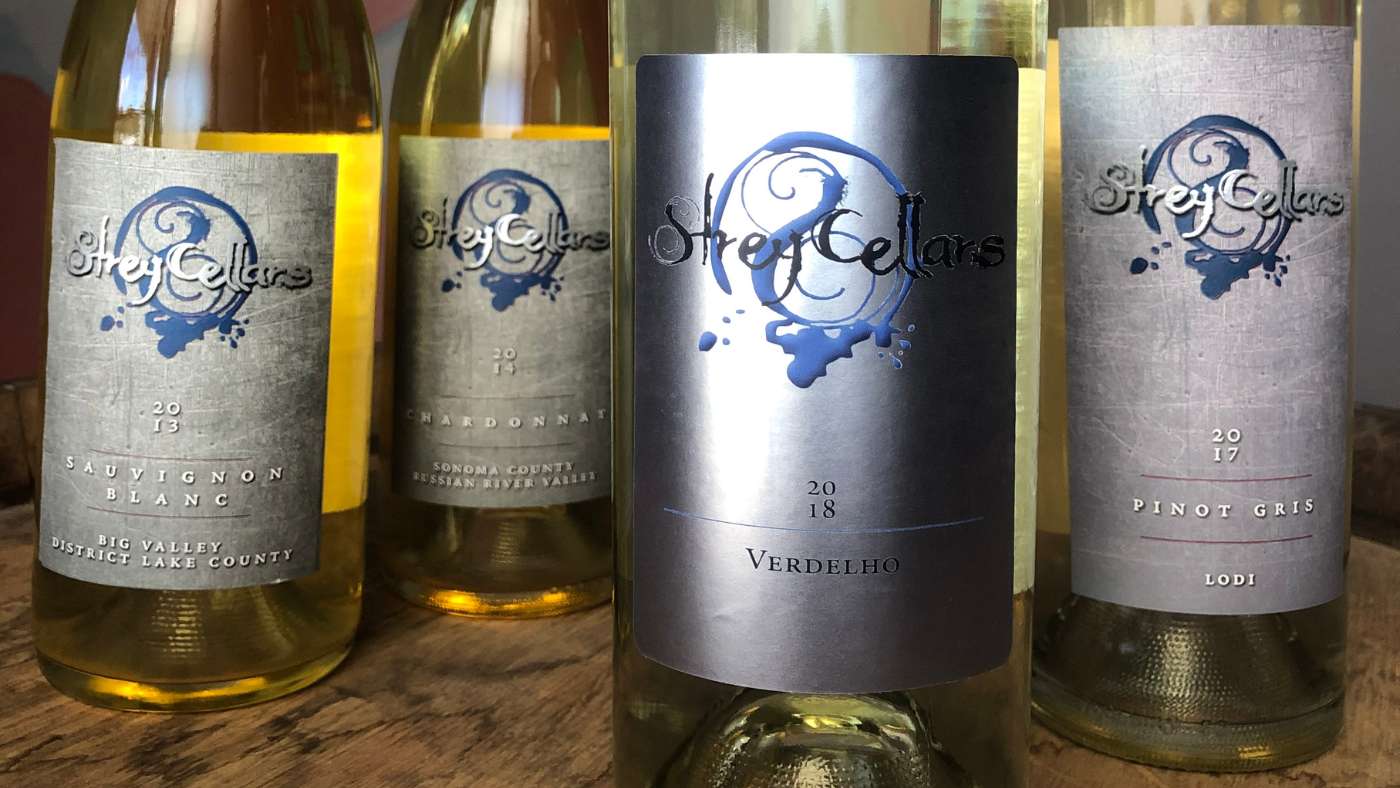 Another fantastic wine for food pairing is a nice dry Rosé. In 2016 and 2017 Scott made two lovely Mourvedre Rosé. The grapes only sat on their skins for 4 and 6 hours at room temperature giving us a mellow salmon or coral color. In 2018 we decided to change it up and make a Barbera Rosé. We let those grapes sit with their skins for 14 hours after crushing and destemming while they were cold soaking at 45 degrees which has given us a vibrant pink color. Like, it would have matched my hair if I still rocked pink! When we press, we are extracting the juice from the grapes themselves, up until then, the juice has "sat on the skins". Cold soaking is a method used to extract color and flavor from grapes. The grapes cold soak on the skins. Generally extraction occurs during fermentation, but a lot of winemakers notice that cold soaking brings out different aspects of the grapes without it being too tannic. We are pretty excited to release our Barbera Rosé this summer, I promise to give you a heads up once we have a definite release date!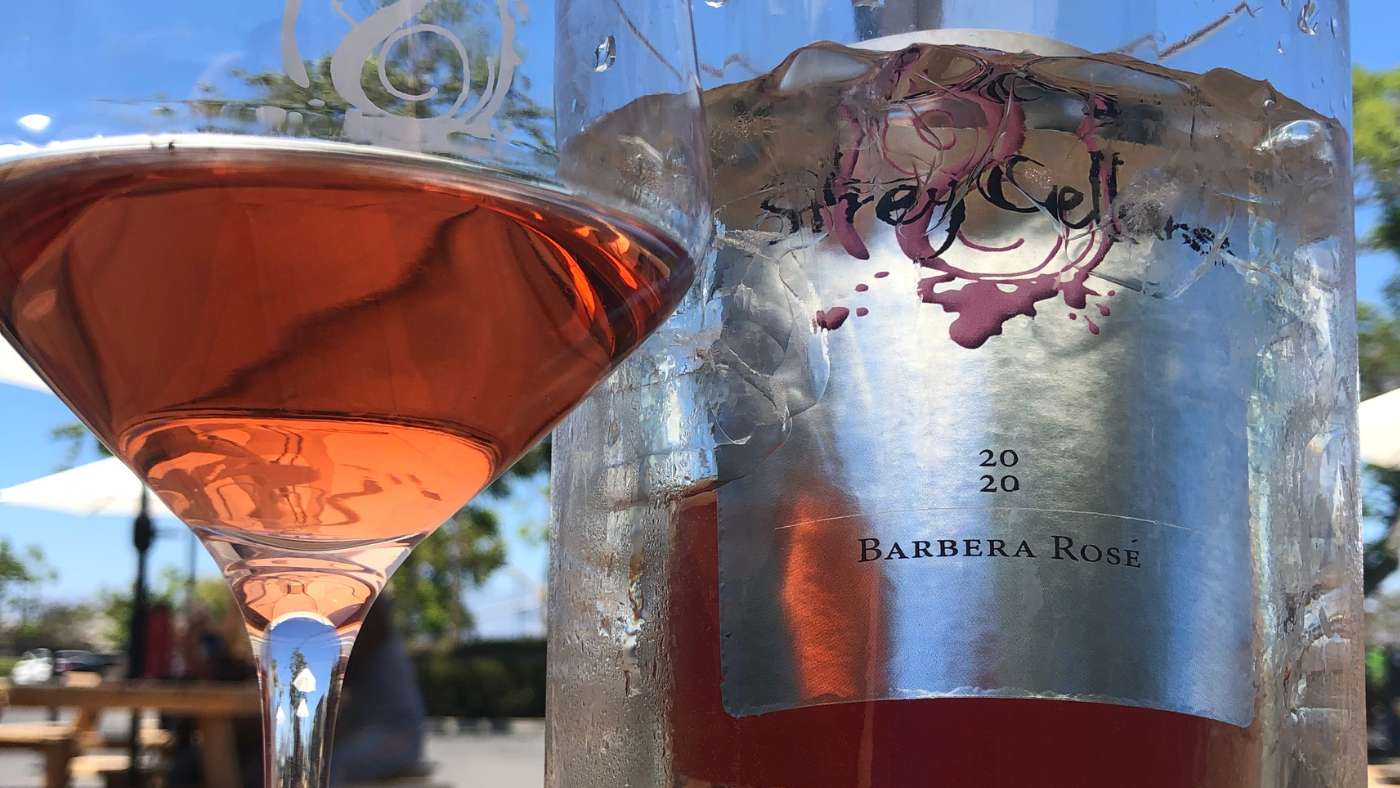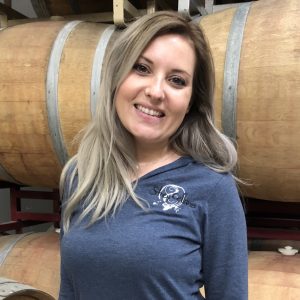 Author's Note: My name is Justine, and I have been a part of the Strey Cellars family since infancy. Responsible for various roles, my favorite has been penning their blogs. During the hiatus of the pandemic, I took a leap of faith and began blogging and writing for different niche websites. You can search them through my IG @justinethewitch. Strey Cellars is my home away from home and will surely be your new favorite Ventura County Winery. If this is your first visit to our blog, you'll notice that I write as if we are old friends because this is the energy of our winery. Visit sometime and see for yourself! If you enjoyed this blog, please share it with a friend. Cheers!